Hunters assist landowners to secure funding & improve biodiversity through the creation and sale of biodiversity units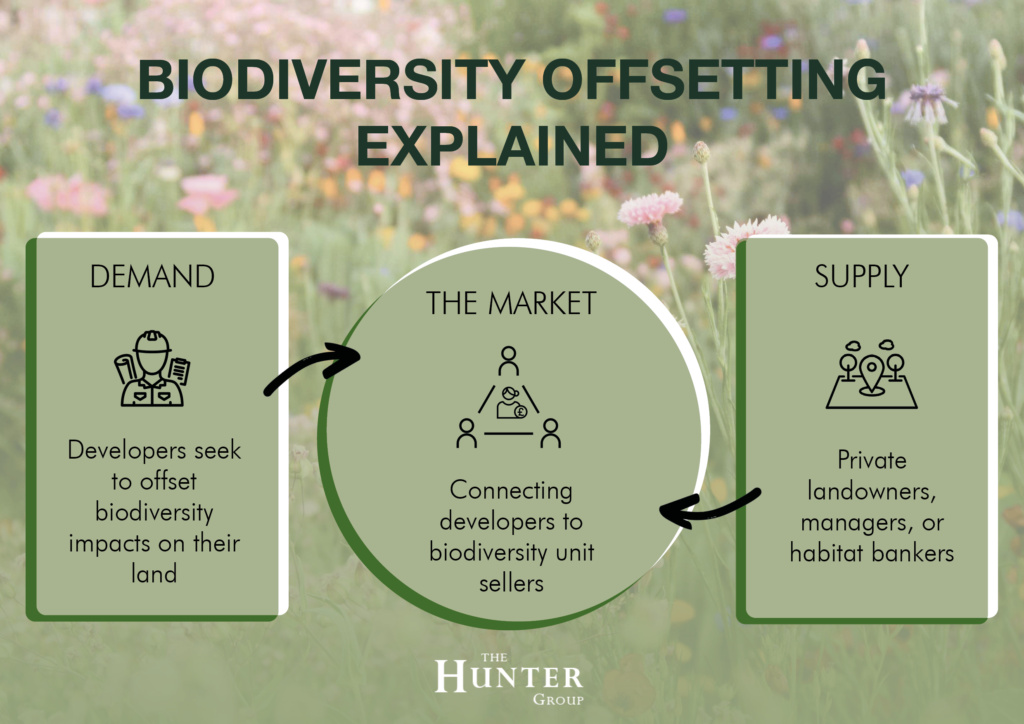 As of November 23, the Environment Act of 2021 requires that most planning applications for developments of any size, have to demonstrate a net gain in biodiversity of at least 10%.  Where it is not possible to achieve this on the proposed development site, a developer can offset the loss or short fall by purchasing biodiversity units or credits from a landowner who has registered an approved habit management and monitoring plan (HMMP) on their land with their local authority.
To create and register an HMMP's, landowners will require an initial assessment of their land to determine existing and potential levels of biodiversity.
The difference between the existing level and potential level of biodiversity is given a unit value and these units, once the scheme is registered, can be sold to developers looking to offset their biodiversity losses or short falls.
On average, a hectare could yield five to six biodiversity units with an average value of between 25 – 35K per unit. Values of units fluctuate in line with general supply and demand.
A landowner registering a scheme will need to enter into a legal agreement or conservation covenant with their local authority to create and maintain the proposed habitat for thirty years.
Hunters have extensive experience in the acquisition, redevelopment and diversification of country estates and farms. The assessment and registration of habit management and monitor plans at Nash Manor and other land holdings in Sussex under ownership or management is part of our ongoing land management.
Watch a video on our scheme at Nash Manor here and view the initial assessment undertaken here.
Hunters have established an experience and professional team to assist landowners assess the diversification opportunities on their landholdings, including:
Assessment of potential for creating biodiversity units.
Consideration of tax and land value implications.
Creation of habit management and monitor plan for submission to local authority for registration.
Negotiation with local authority and legal agreement.
Support for Implementation of land if required.
Sale of biodiversity units created.
Ongoing management support.
Consideration of other diversification opportunities related to re-use of the land and buildings
Contact Lee to find out more lg@thehuntergroup.co.uk